Meet Dr. Evan Lewis PhD
As a clinical research scientist and former professional athlete, I know how important nutrition is for optimal health. 
Today it is harder than ever to make good nutrition choices and to be active. Too many people are suffering from prediabetes, diabetes and neuropathy and it is ruining lives. We take our health for granted until it is too late and then use drugs to mask symptoms. 
I have spent over 10 years researching nerve health,  regeneration and diabetes management to provide a better solution for your health. My FRONTLINE brand is my way of bringing years of clinical research out of the lab to provide you with a safe, natural and clinically effective therapeutic solution to regain or optimize your health. 
Find your nutrition therapy
I am a registered nurse and had to resign 6 years ago because I was diagnosed with stage 2 Carcinoma treated with chemotherapy and radiation. I've been taking Nutarniq Essentials for a year now and I have my feet back again and it is wonderful to walk again without pain. Thank you for giving me back my life back!
After finishing the first bottle I have noticed a decrease in the stabbing pain from my diabetic neuropathy. I have also noticed improvements in digestion and sleep.
I have noticed a vast improvement in my feeling and touch. The burning in my feet has decreased.  Nutarniq is part of my daily routine and I would highly recommend it. 
I have diabetic neuropathy causing numbness and pain in my feet.  I was taking about 4 Lyrica pills per day for the pain.  After 5-months of using Nutarniq Essentials, I noticed that the numbness and the nerve pain in my legs was not as severe and now I only take 1-2 Lyrica pills per day.
I have quite bad osteoarthritis in my back and knees and at times I had unexplained falls.
After taking only half a bottle I started to have less pain. Over several months I have continued to improve using stairs and walking. I am thankful for the benefits and will continue to take Nutarniq for maintenance purposes.
Nutarniq is transforming health
Our Mission is to research and develop targeted nutritional therapies to optimize the health of individuals with chronic diseases and disease complications. Nutarniq is founded in ethical and sustainable practices that will provide the highest quality therapeutic products.
Nutarniq is an Inuit word meaning regenerative and restorative. Our team of scientists and doctors take inspiration from our name to develop clinical grade targeted nutritional therapies for chronic diseases and disease complications.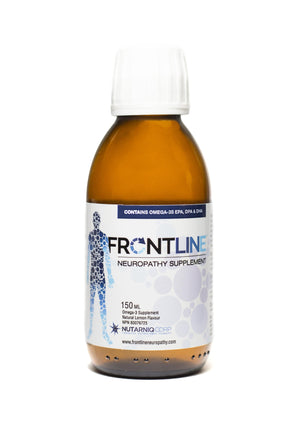 Frontline Neuropathy - Subscription (10% savings)
Sale price Price $45.99 Regular price $49.99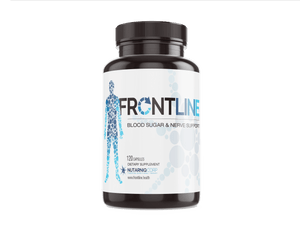 Frontline Diabetes
Sale price Price $79.99 Regular price $99.99